Roscoe- Standard Goldendoodle
"We have held off giving feedback, because I wanted to make sure I wasn't still in a dream! Our pup, Roscoe, has now been home with us for 6 weeks. And from the day he returned right up to today, he retains the training and behavior he demonstrated at the conclusion of the training with Lucas.
BEFORE:
Whether it be walking (and pulling us where HE wanted to go), to playing (the way HE wanted to), Roscoe was frustrating. I would call him our "wild card."
We tried local evening group classes, but made limited progress. Each dog had different challenges that needed to be addressed in too short a timeframe. We approached Lucas and Sherry explaining where we were and where we wanted, needed to be. We are an active family on the move a lot and wanted a pup to be a part of that unit to participate with us on our activities.
They accepted the challenge without hesitation and confident we could be there in a short amount of time.
What happened next?
We made our notes, summarizing our current situation and challenges in detail and submitted them to Lucas.
We met with Lucas: At the drop off date, we reviewed these items and he observed how Roscoe interacted within our family unit.
We said our goodbyes and entrusted our pup into Lucas' care. The drop off was difficult, but we knew it was needed.
Progress updates: Lucas kept in touch with us, giving us updates and enquiring if he saw odd behavior to understand where it may have arisen.
Seeing the 'Results of Lucas': It was a Sunday morning when we got the news that we could plan to pick up our pup at the end of the following week. We were ecstatic, but nervous. We were worried that Roscoe might only listen to Lucas, and not to us. We were worried that Roscoe would revert to the behavior he had before he left home. And we were worried about whether we were skilled enough to uphold this training.
THE UNVEIL:
We arrived to be reunited with our pup. It's like getting your puppy all over again. It was awesome. Lucas controlled the situation and advised us what to do and what to expect. He then explained some of the tools, methods and commands he used. Then he started training us. One by one, mom had a turn, dad had a turn, our 8 year old son had a turn, then the test, our 6 year old daughter had her turn to learn how to work with Roscoe. Lucas worked with our family until we were all confident in our abilities, and Roscoe's abilities. His instructions were simple enough for all ages to follow.
Then we headed home. All by ourselves. Without Lucas. Still a little nervous about what we'd wake up to the next day.
AFTER:
We woke up to—and continue to wake up to—a well-behaved and obedient dog, who loves to play but understands his limits and role within our family unit.
Last weekend we put him to the test, having over 80 people plus 5 visiting dogs to our home for a family reunion. I would summarize this as distraction, territorial and excitement levels at their max! We gave him commands, and near or far he nailed them! Our visitors could not believe how calm and well-behaved a dog he was.
This transformation has been a journey, learning about not only our dog but also ourselves—a journey that Lucas guided us through and continues to support.
Lucas and Sherry, thank you for loving our pup as much as we do and spending time to develop him into the awesome family member that we knew he could be!
Words cannot express our gratitude. ~Karen Pratt and family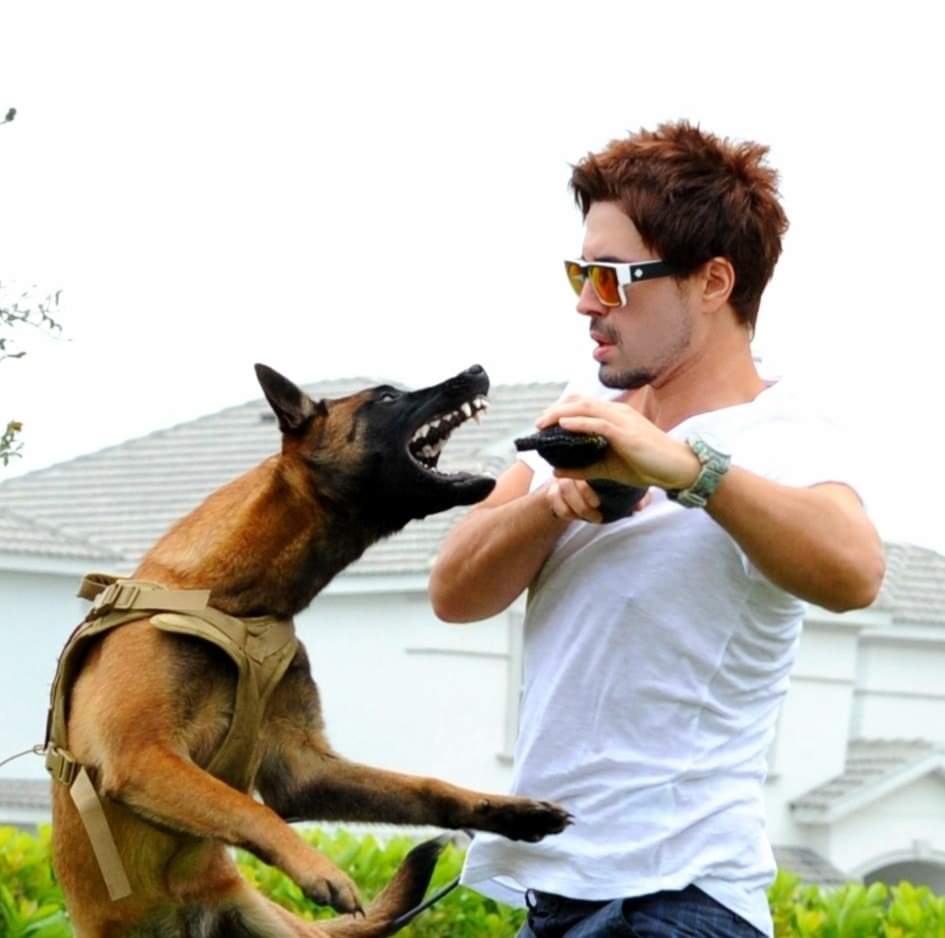 Contact us with the form below.